Whether it's at the top of a communications mast, on a building site or at the bottom of the sea, optical fiber can now be found just about anywhere. These delicate strands of glass fiber are the ideal way to transmit information over vast distances at the speed of light, but as the demands for communications in a harsh environments increase, so do the requirements for tough fiber optic connectors.
Before deploying a solution, engineers will need to consider the realities of the environment in which the connectors will be placed.

Is your connector likely to be exposed to any of the following conditions?
Dirty, dusty or muddy environment
Splashed, sprayed or even submersed with water
Exposed to direct sunlight
Exposed to freezing temperatures
Possibility of being chewed by rodents
Exposed to marine environment/saltwater spray
At risk of being pulled, bumped, dropped or stepped on
If the answer is yes to any one of these points, it's essential to consider all the options on the table to make the optical fiber connection more impervious to the elements.
Choosing a reliable rugged optical fiber connector that's impervious to water, dust, temperature and shock will ultimately offer a return on investment. The downtime and maintenance costs that can be saved by preventing contamination or damage to these fragile fibers can add up to a large amount over the years. By ensuring the absolute security of the connection, you also eliminate the need to build any bulky enclosures around them.
There are a few different types of rugged connector out there on the market, but it's important to choose one that offers the best type of protection required by the application in question. One important factor would lie in choosing a rugged connector with a standardised connection that does not require specialist equipment or engineers to terminate the connections.
Bulgin's 4000 Series Fiber connector is the smallest sealed standard interface connector on the market. The fiber connection is UV resistant, salt spray resistant and sealed to IP66, IP68 and IP69K, while still providing an industry-standard LC interface as specified by IEC 61754-20.
The connector and its housing can be completely immersed in water up to a depth of 10 meters, for a period of up to two weeks (based on IP68 rating tests), without allowing water to gain access to the conduit and hence potentially to freeze and damage the fiber. The connector can also handle temperatures from -25 to +70c and protects the fiber against dirt and dust.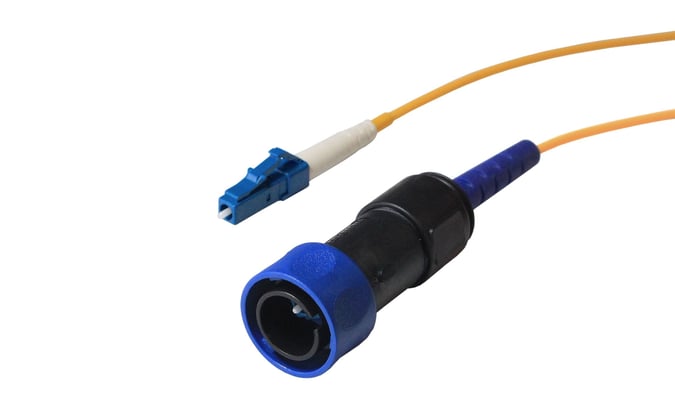 4000 Series Fiber simplex connector
Product code: PXF4050
For duplex fiber connections the 6000 Series Fiber would be most fitting. Like the 4000 Series Fiber, the 6000 Series Fiber connector is suited for outdoor broadcasting, FTTx, server room engineering, civil engineering and aviation & rail applications.
The 6000 Series Fiber is designed for years of services in areas where unprotected physical contact fiber, isn't an option. Featuring a secure, yet easy to operate 30 degree locking mechanism, this series has field proven IP68 and IP69K performance.
In comparison to the simplex 4000 Series Fiber connector, the additional glass fiber on this duplex cable can double the data transmission capabilities where required.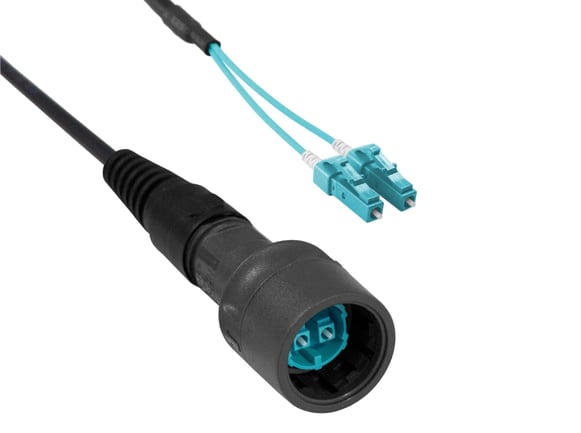 6000 Series Fiber duplex connector
Product code: PXF6050
With a suitable rugged connector, engineers can now plan their fiber deployments in harsh environments without fear of damage from ice – and without the cost of antifreezes, or the inconvenience of bulky enclosures.
Visit bulgin.com for more product information and Bulgin's Connectivity Community for expert advice