Each year, the Jesuit High School Robotics Team enter the MATE International ROV competition. With pressure from the competition organisers to create smaller ROVs, Jesuit Robotics needed smaller electrical and data connectors to enhance modularity and reduce weight.
The MATE International ROV competition challenges students from all over the world to design and build ROVs to carry out missions simulating scenarios found in real-world underwater environments. It challenges students to learn and creatively apply STEM skills and strengthen their critical thinking, collaboration, entrepreneurship and innovation.
Students of four categories spanning K-12, community colleges and universities (EXPLORER, RANGER, NAVIGATOR and SCOUT) must show how they apply the maths, electronics, engineering and physics skill they have learned from the classroom towards solving real-life problems. The students will organise themselves into mock companies to design, build and test underwater robots to complete simulated real-world missions to ensure public safety and healthy waterways. Their tasks this year included inspecting and repairing a hydroelectric dam; monitoring water quality, determining habitat diversity and restoring fish habitat and recovering a civil war era cannon while marking the location of un-exploded cannon shells.
Smaller is better
Since 2019, Jesuit High School has been on the lookout for the most reliable, robust connectors for their underwater ROV and started to use the Bulgin 400 Mini Series connector. Using the Bulgin 400 Mini Series Buccaneer connector means that Jesuit Robotics has been able to shrink their product - like MATE had pressured the groups to do. Not only that, but this made their ROV more modular than more cost-effective than ever before.
The team used Bulgin rear panel mount connectors (PX0413/03P) and flex cable connectors (PX0400, PX0402, PX0410).
As the brief pushes teams to be able to monitor more efficiently, this resulted in applying more autonomous features. Ultimately, this required better video capabilities, which meant that better digital and video systems were implemented. These connections required a lot of bandwidth and in particular Ethernet bandwidth. This then became apparent that it was imperative to use Bulgin connectors, to secure and withhold underwater connections and modularity whilst still having a gigabit connection between the ROV and the topside computers and monitors.
Ultimately, the use of Bulgin's connectors in the Jesuit ROV helped achieve a smaller ROV as well as making it modular whilst still retaining a gigabit connection between the ROV and the computers and monitors topside.
The 400 Mini Series
Positioned between the Standard and 4000 Series in both performance and form factor, the Mini Buccaneer provides reliable power connections up to 250V, 10A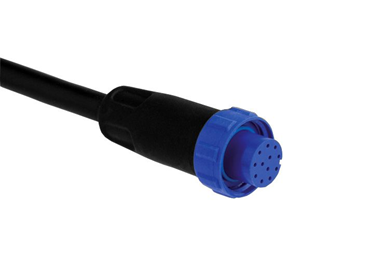 Bulgin's 400 Mini Series Buccaneer connector
With its secure and easy screw thread locking mechanism and IP68 rating, the Mini Buccaneer connector has proved it can perform extremely well in harsh conditions including demanding marine environments and industrial applications in establishing and maintaining strong secure power and data connections. Positive locating keyways also prevent mismating which again creates a more secure connection.
The Mini Series comes in a variety of body styles - flex, flex in-line and two panel mounting styles. Not only that, but it has leading earth contact on all connector types except two-pole variants. This connector range offers great chemical and heat resistance with its UL94V flammability rating. They are also UL approved and are Marine Severity Level 1 approved.
The smallest Buccaneer connector, the Mini Series, is widely and appropriately used in marine navigation, traffic control, remote vehicles and water monitoring applications and has proved it can perform in demanding marine and industrial applications.
In the competition, the team finished third place Explorer Overall Champions, Explorer Technical Documentation Champion and second place Inaugural Microsoft Azure ROV Machine Learning Challenge.
For more information on the 400 Series Buccaneer please visit the Bulgin website.
For expert advice and discussion, please visit the Connectivity Community.